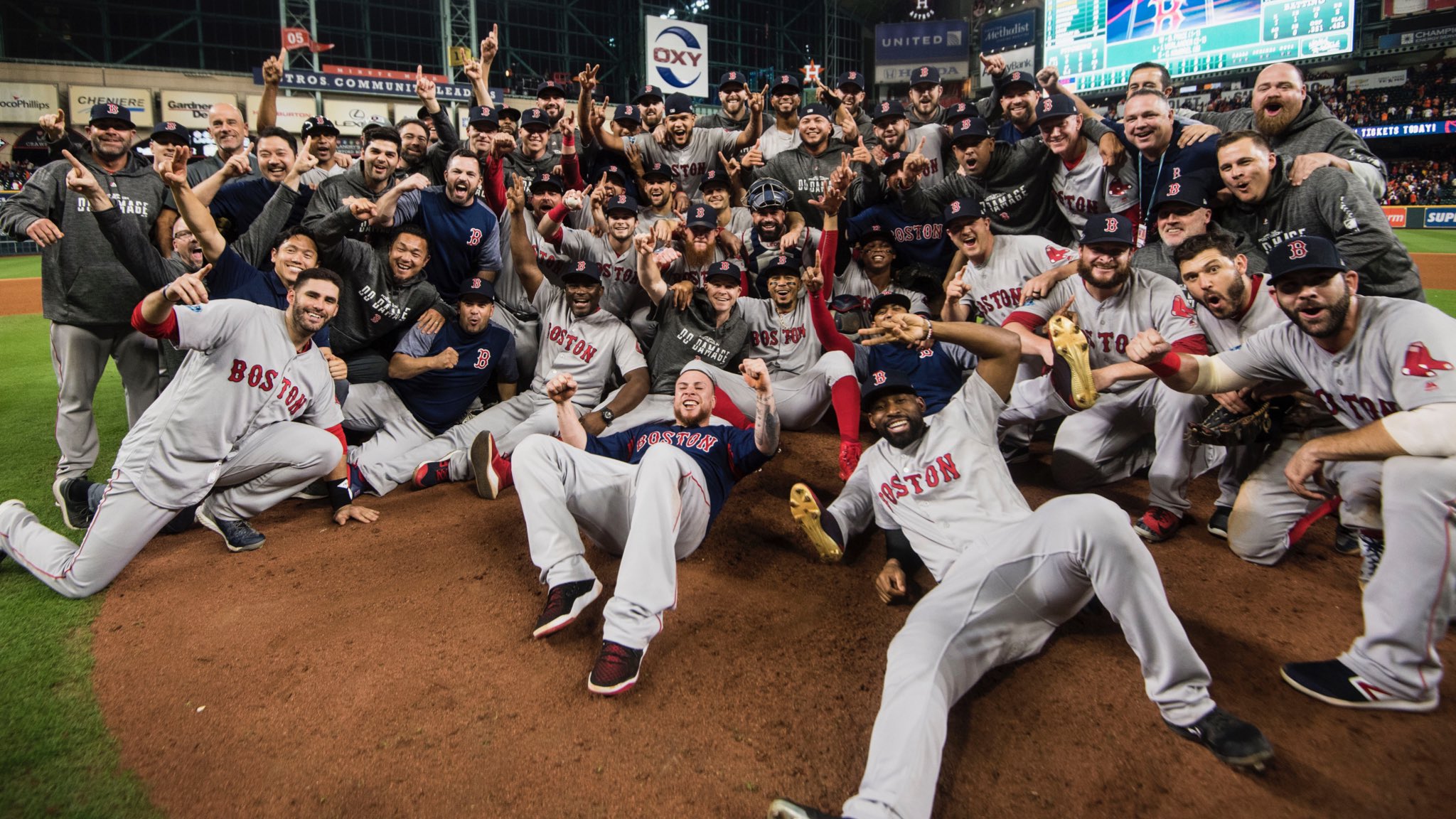 As Andrew Benintendi roamed in left field to secure the final out of the American League Championship Series, the Red Sox cemented a World Series appearance for the 4th time in 15 seasons.
Imagine telling that to the faithful fans that had to watch Aaron Boone smack a home run off of Tim Wakefield in Game 7 of the 2003 ALCS.
Imagine 15 years after that soul-crushing hit, where the Yankees looked poised to win their 5th championship in 8 seasons, that it would be the Red Sox – not the Yankees – with a chance to be the team of the century.
No one would have believed you… and well, that pretty much summarizes this crazy journey it has been being a Boston sports fan (not just a Red Sox fan) since the turn of the century.
18 Years (and counting) of Dominance
Since 2001, the four major sports teams in the New England area have won at least one championship (and the New England Revolution have come close, appearing in the MLS Cup final 5 times between 2002 and 2014).  But I do not think that truly puts things into perspective.
Look at the Kansas City Royals for example.  A team that had not made the playoffs for almost 30 years, the Royals ended a long drought by making it in 2014, where they lost Game 7 of the World Series to the San Francisco Giants.  It only took one year for them to redeem themselves, as the Royals made their way back to the World Series in 2015, where they beat the New York Mets, winning the championship for the first time since 1985.
However, the Royals have not made the playoffs since.
Why do I bring this up?  Because it took three decades for the Royals to become relevant again (hey, I loved Johnny Cueto out there), and now they are (unfortunately) losing in bunches yet again.
In Boston, the winning ways have been consistent across the board for each team.  I was having a discussion with a friend of mine recently, and we realized just how truly dominate the teams in the area have been.  Including the Revolution, each professional team in the New England region has made at least two appearances in a championship game/series since 2001.  Even crazier (to me): there has only been one year since 2001 that a professional sports team in New England did not make it to the final four of their respective league
Just look:
2001 – New England Patriots
2002 – Boston Celtics, New England Revolution
2003 – New England Patriots, Boston Red Sox, New England Revolution
2004 – New England Patriots, Boston Red Sox, New England Revolution
2005 – New England Revoultion
2006 – New England Patriots, New England Revolution
2007 – New England Patriots, Boston Red Sox, New England Revolution
2008 – Boston Celtics, Boston Red Sox
2009 – none
2010 – Boston Celtics
2011 – New England Patriots, Boston Bruins
2012 – New England Patriots, Boston Celtics
2013 – New England Patriots, Boston Red Sox, Boston Bruins
2014 – New England Patriots, New England Revolution
2015 – New England Patriots
2016 – New England Patriots
2017 – New England Patriots, Boston Celtics
2018 – Boston Celtics, Boston Red Sox (going to World Series)
bold = won league championship
italics = lost in league championship game/series
---
I remember in 2013 when the Red Sox won their third championship in 10 years there was a sports talking head (might have been Mazz) who said that this run has been built on two dynasties: that of the Patriots, and that of the Red Sox.
Yes, those two teams account for 80% of the championships in the region since 2001, but look at final four appearances.  If you consider the final four of a respective sport a barometer for being a "title contender," then the Celtics have been in the reach of a title six times since 2002.  Now that includes several iterations of teams (Pierce/Walker, Big 3, IT, Aron Baynes), but nevertheless, the Celtics have had a chance just as often as the Red Sox this century… and I don't know about you guys, but I think those chances are only going to increase during the next 5 years.
What I am trying to say is a lot of the success in the Boston area is not a fluke (nor limited to the Sox and Pats).
Getting Tom Brady was the greatest gift of all-time, but building a perennial winner year in and year out every season since 2001 is simply amazing.  Excluding 2000 and 2008, the 16 seasons that Tom Brady has started the majority (2016 being only 12 out of 16 regular season games) of the season, his teams have been in the final four 12 times… SEVENTY FIVE PERCENT OF THE TIME.  Think about that, since 2001, if Tom Brady is good to go, the Patriots have had a 75% chance at needing one win to reach the Super Bowl… it freaking blows my mind every time I think about it (and I could continue, but I won't).
The Boston Red Sox are entering their 4th rodeo in 15 seasons.  It began with a long overdue title in 2004, but cornerstones of that team (Ortiz, Ramirez, Schilling, Wakefield, Timlin, Varitek and Mirabelli) where around in 2007 for a second title in 4 seasons.  That team looked poised to be a dynasty, but we know what happened in 2011.  Nevertheless, Theo Epstein built a team that made in to the final four 3 times in a 5 season window.
But 2013, that was a team of destiny and luck.
Since August 2015, Dave Dombrowski has taken the pieces left behind by predecessor Ben Cherington, and has built a 108-win machine.  The team had the talent to win in 2016 and 2017, but those tough endings have built a resilient bunch with a shot to win it all this year.  Say what you want, but getting David Price, Chris Sale, Craig Kimbrel, JD Martinez, and the GOAT Nathan Evoaldi on this team (in addition to hiring Alex Cora) is astonishing.  I remember in 2015 when we got Rick Porcello and Wade Miley, and coming off of trading Lester and Lackey in 2014, the goal was to just have guys that could eat some innings… that was the freaking goal.  Yet the staff has been built up (as hectic as it looks) to compliment a youthful bunch on offense, and it is close to paying off.
The Bruins were a methodical process as well.  Built around Bergeron and Chara (teammates since 2006), that duo has only missed the playoffs three times in 12 chances.  The climb to 2011 was painful, as it felt like every season we were a bit closer, only to suffer a devastating playoff defeat.  Then in 2011, it all clicked.  In 2013, it looked like it would again, but the dynasty in Chicago had other plans.  Nevertheless, since 2015, former Bruin Don Sweeney has slowly rebuilt this team, and last season looked like the start of a youthful rise back to prominence centered around players like David Pasternak and Charlie McAvoy.
I met Don Sweeney and Bruce Cassidy this summer.  Both salt of the Earth gentlemen.  The Bruins are in good hands.
Then we have my darlings: the Boston Celtics.
Getting KG in 2007 was said to be the plan for Danny Ainge since he became the GM… folks, he became the GM in 2003… that was a freaking four year plan (even Jim stole Pam from Roy quicker than that).  Well, it paid off, as the Big 3 (Paul Pierce, Garnett, and Ray Allen) won a championship in 2008, and were leading in the 4th quarter of Game 7 of the NBA Finals in 2010, ultimately losing to Kobe and the Lakers (I know Kerm was happy about that).  I could go on a tangent about how 2009 was a lost year with KG getting hurt (WE STARTED 27-2!), but I won't.  Since 2013, Ainge has been masterful in building this team from the Big 3 days of 2007-2012.  If opening night this week was any indication, this deep and young squad is poised to own the Eastern Conference for a LONG time (and I am THRILLED at that idea).
---
The other day I was listening to PFTCommeter of Pardon My Take (great podcast) say how Boston sports fans have become so used to winning that it is almost a relief when they do.  His argument was that we just cannot comprehend NOT being champions, and that if winning is defined as the act of not losing, Boston sports fans would rather win for the sake of not losing, than win for the sake of winning.
Yeah, I love that guy, but I call BS (and Bill Burr called it out).
I'm taking the Portnoy route: winning is the greatest thing ever, and I have been blessed to have my ability to think and comprehend this world line up with the greatest stretch of sports success in a region.
The longest playoff drought these eyes have witnessed was when the Red Sox did not make the playoffs between 2010 and 2012 (the Revolution also had a three-year playoff drought between 2010 and 2012, but I'll be real with y'all: I could care less).
In that three-year window, the Red Sox had a record of 248-238 (.510), and needed a historic collapse in 2011 to miss out on the playoffs (yeah, I remember, they had a 99.6% chance of making the playoffs at one point in September…)
The Bruins and Celtics have each had one 2-year playoff drought since 2001, and the Patriots have missed the playoffs a total of 2 times since 2001 (in 2002 they were 9-7, and in 2008, the Matt Cassel led Pats went 11-5)
Every time you turn around, someone has a chance of winning it all.
I have no idea what the odds were of me being able to bare witness to all this winning (maybe the same as me winning Mega Millions), but I cannot complain.  Sports are my life, they give me happiness when life is rough, and they give me something to look forward to everyday.  This blog was built on people loving sports.  Sometimes called the modern church (Jaylen Brown called sports a form of control, and he has a point), maybe I love them too much, but I have been grateful to have sports to rely on for so many years, and as a Boston fan, that has meant a lot of winning.
It has not ALL been luck, but for each team to have some form of institutional success, and for it to (mostly) align these past 18 years, yeah, it's been lucky.
So to everyone looking on from the bottom of the mountain top: enjoy, it ain't ending anytime soon!
---
Follow Nick on Twitter (@Nick_Collins14)