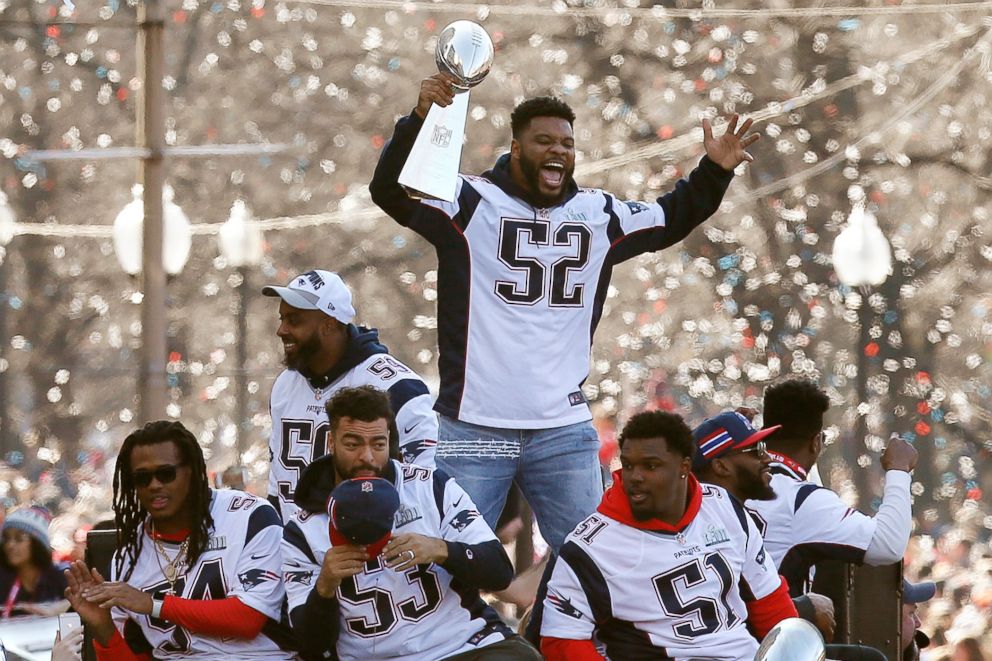 Welcome back to Who to Watch! Before we begin, we just want you to know about the changes we're making.
With the NFL season now over, we're scaling back the writers who participate on Who to Watch so we don't overwhelm people with takes.  Since we primarily focus on basketball, football, and baseball (soccer coming soon, keep an eye out for that), that means it'd be all basketball, all the time, and too much of a good thing isn't a good thing at all.  So between now and the start of baseball season, we'll rotate Fredy, Andy, Mike, Kerm, and Nick by having three of those lovely gentlemen write a player to buy and sell. Don't worry, you won't go more than a week without seeing one of their pieces (we did the math).
Back to sports.
We just saw the Patriots cap of yet another Super Bowl season, their third in 5 seasons, and 6th since 2001… sounds like Mike was right about McVay (and Fredy was W-R-O-N-G about Goff).  In the NBA, TRADES galore! The following players were traded since we last met: Tobias Harris, Marc Gasol, Markelle Fultz, Harrison Barnes, Otto Porter, Nikola Mirotic, Markieff Morris, Bobby Portis, Jabari Parker, Iman Shumpert, Zach Randolph, BOBAN, Michael Beasley (sorry Kerm), and ANTHONY DA— oh wait… he wasn't.  With the trades behind us, the season will now intensify, and we've got you covered, starting here.
Buy
Mike: Caris LeVert
The Brooklyn Nets are on a bit of a slide right now, having lost 4 of their last 6 games, but Caris LeVert is here to save the day. After suffering a brutal ankle injury on November 12th, it was immediately assumed LeVert would be done for the year and his breakout season would be cut short. However, when the official diagnosis came out, there was hope he could return, and that's just what LeVert has done with Nets' coach Kenny Atkinson declaring him active for tonight's game against Chicago. In the 13 games LeVert played in before getting injured, he was a legit game-changer for Brooklyn. He averaged 19 PPG, 4.2 RPB, and 3.7 APG and got clutch bucket after clutch bucket. LeVert had game-winning scores in two games against the Knicks and Nuggets, respectively, and you had a feeling there would've been more if didn't get hurt. LeVert is back now though and Brooklyn will be a feisty team come playoff time that just might have enough to legitimately challenge a top seed. (Also I know I had D'Angelo Russell in this space last week but trust me this isn't just a Nets fanpage, at least not yet.)
When to Watch: 
Chicago Bulls vs. Brooklyn Nets (2/8; 7:30pm)
Brooklyn Nets vs. Toronto Raptors (2/11; 7:30pm)
Brooklyn Nets vs. Cleveland Cavaliers (2/13; 7:00pm)
Kerm: Tobias Harris
I'm very interested to see how Tobias Harris meshes with Philadelphia's big three. With his ability as a spot up shooter (43% from three and 57% from the corner), Harris will still be a threat offensively even with his role as a pick and roll ball handler most likely diminishing. He could also be a great crunch time scoring option as he showed in his final game as a Clipper.
Bringing in another All-Star caliber player after already going through the growing pains when adding Jimmy Butler is without a doubt a gamble. If the pieces don't properly fit, Butler and Harris could walk this summer in search of larger roles. Whether this is successful or not, constructed super teams are almost always must see TV.
When to Watch:
Denver Nuggets vs. Philadelphia 76ers (2/8; 7:00 PM)
Los Angelas Lakers vs. Philadelphia 76ers (2/10; 3:30 PM)
Boston Celtics vs. Philadelphia 76ers (2/12; 8:00 PM)
Philadelphia 76ers vs. New York Knicks (2/13; 7:30 PM)
Nick: Marcus Smart 
Marucs Smart and I share the same birthday (March 6, in case you were wondering), and I bought this lovely sweatshirt from him, so needless to say, I love the guy.  After the first 20 games of 2018, the Celtics were 10-10, and under-achieving compared to the sky high expectations they had coming into the season.  However, since their 21st game on November 26, Boston is 25-10, which is one of the best records in the league during that stretch.  Who happened to be inserted into the starting lineup on a full-time basis at that time? Marcus Smart.  The fifth-year Celtic has mostly been a role player coming off the bench since his second year in the NBA, only starting in 21% of the regular season games he played between then and November 26, 2018.  As he know, a change was needed, and Smart's number was called on by Brad Stevens; it has paid off.  Boston is 25-9 in games started by Smart this season, and he's hitting 3's now (39.4% as a starter this season)!  He's been making his 4-year, $52 million contract look like a bargain, and if he continues to help stir the pot, Boston could be the two seed in the East before the season is over.  I'm buying on Smart to be a key piece of that run.
When to Watch: 
Los Angeles Clippers vs. Boston Celtics (2/9; 8:00 PM)
Boston Celtics vs. Philadelphia 76ers (2/12; 8:00 PM)
Detroit Pistons vs. Boston Celtics (2/13; 7:30 PM)
---
Sell
Mike: Justice Winslow
It seems like ages ago when the Celtics offered Michael Jordan four 1st round picks for the chance to draft Winslow in 2015. How happy must Danny Ainge be that MJ turned that down for Frank Kaminsky, who the Hornets are looking to waive after they couldn't find a trade partner for his services at the deadline. While Winslow is by no means a bad player, the star potential he entered the league with has mostly fizzled out. The Miami Heat are currently the 8th seed in the Eastern Conference, hovering only 1.5 games ahead of the 9th place Detroit Pistons. In need of a surge, Winslow and the Heat have faltered of late, losing 7 of their last 11 with 3 of their wins coming against the lowly Bulls, Cavs, and Knicks. Over Winslow's last four games, he's shooting a paltry 33.3% from the field and 27.3% from beyond the arc. These percentages, along with the 10.3 PPG in 33.3 MPG over that stretch, are part of why Miami may slip out of the playoff picture.
When to Watch:
Miami Heat vs. Sacramento Kings (2/8; 10:00pm)
Miami Heat vs. Golden State Warriors (2/10; 8:30pm)
Miami Heat vs. Denver Nuggets (2/11; 9:00pm)
Miami Heat vs. Dallas Mavericks (2/13; 8:30pm)
Kerm: Serge Ibaka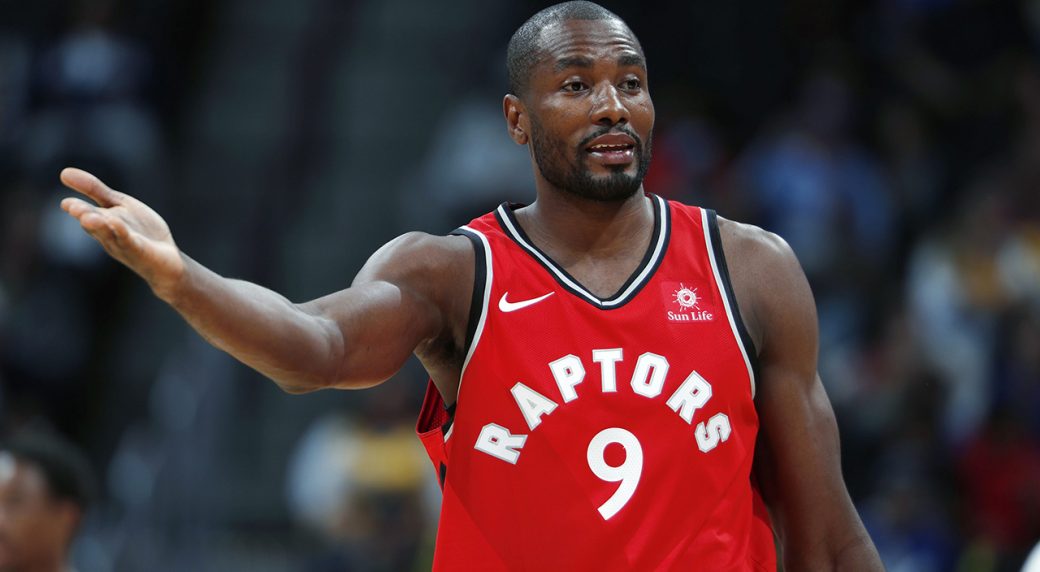 Serge Ibaka has had a great season thus far as a starter for the Raptors. He's averaging 7.7 boards a game and career high 16.1 points. Unfortunately for him, Pascal Siakam has been more of a breakout star this season, and the Raptors traded for former defensive player of the year Marc Gasol. These three can't all start with Kawhi Leonard on the roster, and more likely than not, Ibaka will have to sacrifice his starting spot. This doesn't mean he can't be productive in smaller doses, but we'll have to wait and see how it affects his ego.
When to Watch:
Toronto Raptors vs. New York Knicks (2/9; 7:30 PM)
Brooklyn Nets vs. Toronto Raptors (2/11; 7:30 PM)
Washington Wizards vs. Toronto Raptors (2/13; 7:30 PM)
Nick: Andrew Wiggins
I'm way too late to this party, but I'll say it: Andrew Wiggins sucks.  I don't know if Jimmy Butler got into his head, because Wiggins was improving before he got there, but now it looks like he's peaked (and if anything, gotten worse). This past week he was 19 for 56 (33.9%) from the field, and 1 for 11 from 3, scoring 45 points (15 PPG), and I don't see it getting better this season.  Wiggins is only 23 (turns 24 in less than three weeks), and has shown he can be a volume scorer in this league, but I'm worried about the culture in Minnesota, and if a change of scenery is needed.  Now that Butler and Thibs are gone, maybe next season under a new coach things can be re-centered around Wiggins and Towns.  However, if Minnesota did decide to move on, they might have some difficulty, as Wiggins is currently in Year 1 of a 5-year, $148 million contract.  We've seen worse contracts be moved, so anything is possible, but for the rest of this year, I'm selling on Andrew Wiggins; call be back this summer
When to Watch:
Minnesota Timberwolves vs. New Orleans Pelicans (2/8; 9:30 PM)
Los Angeles Clippers vs. Minnesota Timberwolves (2/11; 8:00 PM)
Houston Rockets vs. Minnesota Timberwolves (2/13; 8:00 PM)
---
The "Who to Watch" series drops every Friday, via Hold My Drink Sports