We interrupt your March Madness viewing experience to give you our weekly update of Who to Watch
Welcome Back!  Another great week in sports, no?  Yesterday we saw Ichiro play his final game of baseball, as he retired following a two game series in his native Japan; cheers to a wonderful career.  Mike Trout signed a contract extension that was worth exactly $100 million more than the one Bryce Harper signed just weeks ago, and his deal will run one less season than Harper's (for you math wizards, Trout will make over $35.8 million per season between 2021 and 2032).  In basketball, we saw another matchup between the Sixers and Celtics, with Philly beating Boston for the first time since Game 4 of the Eastern Conference Semifinals.  Isaiah Thomas played his first game in the TD Garden since he was traded by the Celtics in August 2017. Standings in the NBA remain very fluid, as battles for seeding are still occurring with less than 3 weeks remaining in the season. James Harden had another 50-point game (57 to be exact), and Giannis had one as well on Sunday.  In football, we saw longtime Packer Clay Matthews sign with the Los Angeles Rams, and Blake Bortles joined the Super Bowl runner-ups as well.  Ryan Fitzpatrick signed with the Miami Dolphins, continuing his journeyman career, and TE Jared Cook joined the New Orleans Saints.
And finally: if your brackets are not perfect, that's okay!  You won't see a college player below, but we as a staff recommend Mr. Zion Williamson (tonight at 7:10 PM) and Mr. Ja Morant (Saturday) for your college basketball viewing pleasure this weekend.
Buy
Andy: Karl-Anthony Towns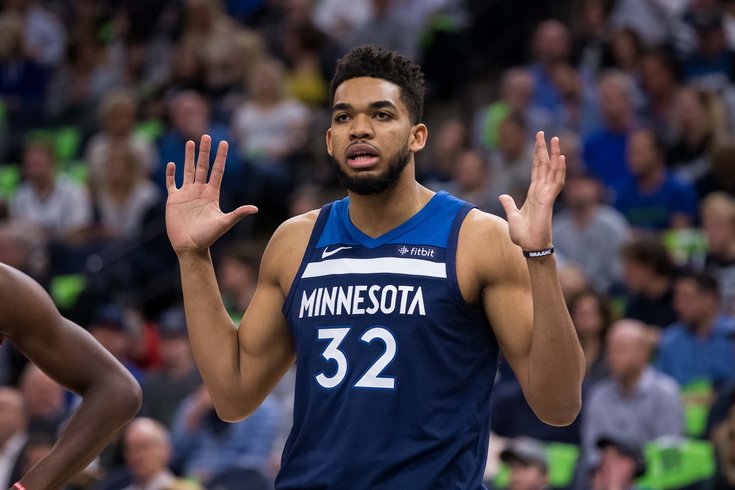 It is hard for anyone to get excited about the Minnesota Timberwolves. Especially after coming in to this season with so much hype, only to disappoint with mediocre chemistry and the Jimmy Butler Novellas.  The only thing that keeps me excited about this team is the big man Karl-Anthony Towns. In the past 10 games, he is averaging 29+ points and 12+ rebounds. The only reason why he is not getting the hype he deserves is because his team went 2-8 in that stretch. There is only so much one man can do for a team and not everyone can be LeBron in his Cavalier days. Look at Anthony Davis, no one is questioning his talent down in New Orleans but where is his team? 12th in the West. Give credit where credit is due. Karl-Anthony Towns can ball! Buy in on this man. When he gets the team he needs around him, whether that is being traded to a better team or bringing the right people to Minnesota (Not Jimmy Butler), he will be an MVP.
When to Watch: 
Minnesota Timberwolves vs. Memphis Grizzlies (3/23; 8:00 PM)
Los Angeles Clippers vs. Minnesota Timberwolves (3/26; 8:00 PM)
Golden State Warriors vs. Minnesota Timberwolves (3/29; 8:00 PM)
Kerm: Joel Embiid
After leading Philly to victory against Boston, Joel Embiid made a claim that he's the most unstoppable player in the league. While that title most likely belongs to a certain Greek Freak in Milwaukee, Embiid certainly made his case this week. In the two games he played this week, he hung 40 and 15 on the Bucks (while being the only chance to stop a dominant Giannis) and 37 and 22 on the Celtics. With the playoffs approaching, you can't help but take notice how dominant he looked against two of the most talented teams in the conference.
Toronto might be a tougher second round match up for Philly than these other two teams, but if Embiid is leading the charge, Philly and their five man nucleus could go further than we expect this postseason.
When to Watch: 
Philadelphia 76ers vs. Atlanta Hawks (3/23; 7:30 PM)
Philadelphia 76ers vs. Orlando Magic (3/25; 7:00 PM)
Brooklyn Nets vs. Philadelphia 76ers (3/28; 7:00 PM)
Mike: Jalen Brunson
The Dallas Mavericks haven't been winning much lately, but there's plenty of reasons to be excited about this team. One of those reasons is the play of rookie point guard Jalen Brunson. Drafted by Dallas in the second round, Brunson was seen as mostly a finished product coming out of Villanova. Recently though, Brunson has been showing he has more to offer. Over his last 10 games, Brunson is averaging 16.7 PPG, including a career high 34 point performance against the Spurs. He's been putting up points efficiently too, sporting an excellent 65.5 true shooting percentage over those 10 games which would be the 5th best mark in the NBA for the season. We all know about star rookie Luka Doncic, but don't sleep on Brunson emerging as a player to reckon with in years to come.
When to Watch: 
Dallas Mavericks @ Golden State Warriors (3/23, 8:30 PM)
Sacramento Kings @ Dallas Mavericks (3/26, 8:30 PM)
Miami Heat @ Dallas Mavericks (3/28, 7:30 PM)
---
Sell
Andy: Paul Millsap
This man is getting paid $30 million a year to put up 13 points per game. Are you serious!? I get it though, the Nuggets are second in the West and that's no easy feat. They have a better record than the Rockets who have super star caliber players on their roster. Is it just me or is anyone else surprised that the Nuggets are this successful? Millsap is the third best player on the Nuggets and he is still only averaging 7+ rebounds per game. Somehow Millsap is still getting hype. Whatever this Denver team is doing is clearly working but to me it just seems like a Moneyball scheme. Can in hold up come the playoffs? We will see but I am skeptical. Nikola Jokic is the real deal, I will not deny that, but Millsap? That's going to be a no for me dawg.
When to Watch: 
Denver Nuggets vs. New York Knicks (3/22; 7:30 PM)
Denver Nuggets vs. Indiana Pacers (3/24; 5:00 PM)
Detroit Pistons vs. Denver Nuggets (3/26; 9:00 PM)
Denver Nuggets vs. Houston Rockets (3/28; 8:00 PM)
Kerm: Paul George
OKC has not been the same since Paul George's shoulder injury. After missing three games at the beginning of the month, Goerge and company have lost 6 of their last 9, including four straight losses. What's most startling is Goerge's overall plus/minus is a -18 during this stretch. They've played against some good teams in this stretch, but an MVP candidate should have an overall positive impact (even if it is only a nine game stretch.)
Let's see if he can pick it back up again, if not, OKC could end up as an eighth seed. And nobody wants to be an eighth seed in the West.
When to Watch: 
Oklahoma City Thunder vs. Toronto Raptors (3/22; 7:30 PM)
Oklahoma City Thunder vs. Memphis Grizzlies (3/25; 8:00 PM)
Indiana Pacers vs. Oklahoma City Thunder (3/27; 8:00 PM)
Mike: Tyreke Evans/Cory Joseph
When Victor Oladipo went down for the Pacers, they needed someone to step up for the rest of the season. Tyreke Evans and Cory Joseph were both ideal candidates to help fill the void left by Oladipo's absence, but neither of them have come through. Indiana has lost their last 3 games as they fight for seeding in a heated playoff race, and the lack of production from Evans and Joseph is holding them back. Both players got about 21 minutes of playing time over those 3 games, and they combined for 13 PPG while shooting 41% from the field, 16.7% from three, and 54.5% from the line. This is not what you want to see from your main backup guards. The Pacers have survived since Oladipo went down, but once the playoffs come around they are in trouble if Evans and Joseph don't get their act together
When to Watch: 
Denver Nuggets @ Indiana Pacers (3/24, 5:00 PM)
Indiana Pacers @ Oklahoma City Thunder (3/27, 8:00 PM)
---
The "Who to Watch" series drops every Friday, via Hold My Drink Sports