Welcome back to Who to Watch!
We have officially entered baseball season (last week did not count), and we've got some early season results. The Dodgers broke the record for the most Opening Day home runs (8), Jacob deGrom had a great first start, which continued an MLB-record streak of starts (30) in which he has allowed 3 or fewer runs, oh, and Bryce Harper has ALREADY been boo'd in Philly. In the basketball world, we saw Devin Booker score 50+ points in back-to-back games, Lance Stephenson with a great crossover (yeah yeah, he stepped on Jeff Green's shoe), and Jeremy Lamb hit the craziest buzzer-beater of all-time.  In playoff news, 5 playoff spots have been clinched in the East (MIL, TOR, PHI, IND, BOS), and 6 have been clinched in the West (GS, DEN, POR, HOU, UTA, LAC); with the Sacramento Kings 6.5 GB from the 8th seed, the two remaining teams in the West who are in the playoff picture (UTA, OKC, SA) are all but guaranteed to make the postseason. In the East, Brooklyn, Detroit, Miami, Orlando, and Charlotte are battling for seeds 6-8 (2.5 games separate these teams).
Alright, enough playoff talk, lets talk about the games that ARE happening!
Buy
Andy: J.D. Martinez
Ahhhhhh, baseball season is back baby! You know what that means. People are going to start spending money on overpriced beers and nasty hot dogs. This also means we get to see the sluggers get back an action, and one slugger I will place my bets on this season is my man J.D. Martinez. In the season opener for the Sox, J.D. was able to work in 2 hits and an RBI. In a game as pathetic as this one, I will take it. He is no Big Papi but he is certainly coming into his own on this squad, and I expect big things for this guy. His consistency last year was all we needed to get the ball rolling. It is his second year with the team, and it will only get better. Count on this DH to be the home run leader in all of baseball this year.
When to Watch: 
Boston Red Sox vs. Seattle Mariners (3/29; 10:10 PM)
Boston Red Sox vs. Seattle Mariners (3/30; 9:10 PM)
Boston Red Sox vs. Seattle Mariners (3/31; 4:10 PM)
Boston Red Sox vs. Oakland Athletics (4/1; 10:07 PM)
Boston Red Sox vs. Oakland Athletics (4/2; 10:07 PM)
Boston Red Sox vs. Oakland Athletics (4/3; 10:07 PM)
Boston Red Sox vs. Oakland Athletics (4/4; 3:37 PM)
Mike: Damian Lillard
It would be easy to say the Portland Trail Blazers are toast after Jusuf Nurkic's gruesome leg injury (quick reminder: DO NOT WATCH) and CJ McCollum's extended absence. However, the Blazers have one thing the rest of the league doesn't, and he goes by the name of Damian Lillard. Year after year, Lillard finds a way to elevate his game, and he has proven himself to be one of the marquee stars in the NBA. In the midst of a 5-game winning streak, Dame has been asserting his dominance by putting up per game averages of 26.6 points, 11 assists, and 5 rebounds. Portland is in great position to be a top 4 seed going into the playoffs this year, and with no Jrue Holiday or Anthony Davis to knock them out in the first round, I wouldn't count out Lillard putting the team on his back and making a run deep into the playoffs.
When to Watch: 
Portland Trailblazers vs. Atlanta Hawks (3/29; 7:30 PM)
Portland Trailblazers vs. Detroit Pistons (3/30; 7:30 PM)
Portland Trailblazers vs. Minnesota Timberwolves (4/1; 8:00 PM)
Memphis Grizzlies vs. Portland Trailblazers (4/3; 10:00 PM)
Nick: Jerod Mayo
Former Patriots linebacker Jerod Mayo was hired to replace the void left by Brian Flores as the linebackers coach in New England this week. Jerod Mayo was a Patriot from 2008 to 2015, and he had a solid career. He was the Defensive Rookie of the Year in 2008, a two-time Pro Bowler, and in 2010 he was First Team All-Pro, as he tallied 175 tackles.  A bit of foreshadowing to his future, Mayo was voted a team captain 7 straight seasons (2009-2015), and was considered a coach on the field throughout his career. Injuries in 2013 and 2014 led to being surpassed by Dont'a Hightower and Jamie Collins, and after the 2015 season, Mayo retired.  Most recently, he has been on TV analyzing the Patriots for NBC Sports Boston. At the age of 33, he will become the second former Patriot coached by Bill Belichick in New England to join his coaching staff (Raymond Vetrone being the first).
When to Watch: 
TBD vs. New England Patriots (9/8; 8:20 PM)
---
Sell
Andy: Chris Sale
Wow, what a horrendous start for the lanky man himself. I know it is the first game of the season, and you can't judge a guy this hard from the first game, right… Oh yes I can! Especially someone as high a caliber as Chris Sale. I will judge, and I will judge hard. 7 RUNS ALLOWED, 3 HOMERUNS, 2 BATTERS WALKED. All in just 3 INNINGS! Are you kidding me Sale!? I am not saying that the Red Sox need to get rid of this guy. He is their ace. All I am saying is that with such a rocky start, I do not see his next outing going any smoother. I would shy away from Chris Sale in the beginning of this season. I do believe in his talents, but boy am I worried about what this will mean for his ego.
When to Watch: 
Boston Red Sox vs. Oakland Athletics (4/2; 10:07 PM)
Mike: Cam Reddish
Duke's Freshman class this year was one for the ages, headlined by top prospects Zion Williamson, R.J. Barrett, and Cam Reddish. While Zion has grabbed most of the headlines, and rightfully so, Reddish was supposed to have quite a few of his own. That hasn't been that case though, and looking at Reddish's numbers, it's easy to see why. On the season, Reddish is shooting under 36% from the field, which includes an under 40% mark on 2-pointers. That kind of efficiency isn't what NBA teams are looking for, and doesn't bode well for Reddish's game translating to the big leagues. Elsewhere in the box score, Reddish's other stats don't make up for the poor shooting. Reddish averages 2.7 turnovers per game against only 2 assists which shows his playmaking isn't where it needs to be. I realize Reddish is still crazy young and has plenty of time to improve once he is drafted, but as of now, his outlook doesn't look as promising as it once did.
When to Watch: 
Virginia Tech Hokies vs. Duke Blue Devils (3/29; 9:39 PM)
Nick: Bryce Harper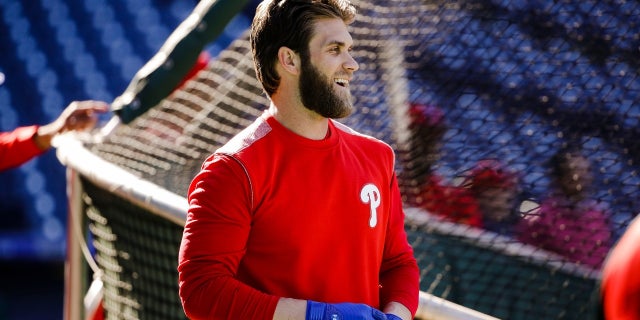 Is Bryce Harper overrated? A recent poll conducted by The Athletic asked current players who the most overrated player in baseball was, and 62% said Harper. Now does that mean he's not good? No, of course not. However, for years we've been told it's Trout 1, Harper 2 (sometimes 1A/1B), but Harper has really only had one WOW season, and another 1-2 pretty good ones. He has an MVP in the trophy case for an amazing year in 2015, but in the three seasons that followed, Harper's slash line was .267/.391/.505, with 87 home runs and 273 RBI (Trout's slash line in that time was .312/.447/.598, with 101 home runs and 251 RBI).  We know what he can be at his best, but he has not reached that peak consistently enough, and as he enters his age-27, smack dab in his prime, if he does not get there soon, his 13-year, $330 million contract will not look pretty.  I'm selling Harper as a tad below the level of Mike Trout, and putting him more in the class of the Mookies and Arenados in the world (which is GOOD), and that's if he's on his game… but can he be in Philly?
When to Watch: 
Atlanta Braves vs Philadelphia Phillies (3/30; 4:05 PM)
Atlanta Braves vs Philadelphia Phillies (3/31; 7:08 PM)
Philadelphia Phillies vs. Washington Nationals (4/2; 7:05 PM)
Philadelphia Phillies vs. Washington Nationals (4/3; 1:05 PM)
---
The "Who to Watch" series drops every Friday, via Hold My Drink Sports