Folks, we made it. April 11, and the NBA season is over. For some teams, this is the end of the road, and time to see if they can get Zion. For others, this is the beginning of the playoffs. Before we move on, I want to highlight this season by making my choices for all of the accolades. This means All-NBA teams, All-Rookie teams, All-Defensive teams, and of course, the hardware itself. It was a great season, (heck, this week alone was amazing), and tons of players put on a show. Lets give them their time to shine.
MVP: James Harden
Season Stats: 36.1 PPG, 6.6 RPG, 7.5 APG, 2.0 SPG, 0.7 BPG
.442 FG%/.368 3P%/.879 FT%
---
I went back and forth on this, and was originally Team Giannis, but after further thought, I couldn't deny what Harden has done this season. After a 12-14 start, Harden started scoring at a historic level; he averaged 38.7 PPG his final 55 games of the season, and Houston went 41-15 to finish the year. That's MVP-level play.
Other contenders: Giannis Antetokounmpo, Paul George, Nikola Jokic, Joel Embiid
Defensive Player of the Year: Giannis Antetokounmpo
Season Stats: 27.7 PPG, 1.3 SPG, 1.5 BPG, 100.5 Defensive Rating, 12.9 Defensive Win Shares
---
Giannis deserves some hardware. He might be the best two-way player in the NBA now (between him and Paul George), and as great as he was on offense, he was equally as good on defense.
Other Contenders: Paul George, Marcus Smart, Jrue Holiday, Rudy Gobert
Coach of the Year: Mike Budenholzer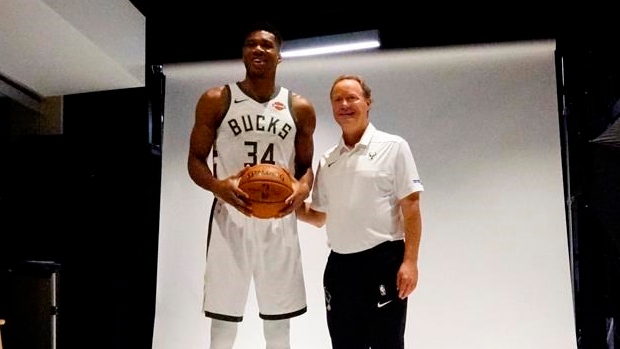 Team Stats: 118.1 PPG (1st), 109.3 OPP PPG (11th in NBA), 13.5 3PM/G (2nd) 113.8 Offensive Rating (4th), 105.2 Defensive Rating (1st)
---
The Bucks went from 44 wins in 2017-2018 to 60 wins this year. Without any drastic roster upgrades (sorry Brook Lopez), this was an illustration of a system overhaul, and that's thanks to Mike Budenholzer.
Other Contenders: Doc Rivers, Nick Nurse, Kenny Atkinson, Nate McMillan, Mike Malone
Most Improved Player: Pascal Siakam
Season Stats: 16.9 PPG, 6.9 RPG, 3.1 APG, 0.9 SPG, 0.7 BPG
.549 FG%/.369 3P%/.785 FT%
---
Pascal Siakam went from D-League MVP just two years ago to a key cog in the second best team in the Eastern Conference. His numbers skyrocketed compared to last season, and he is now a force to be reckoned with.
Other Contenders: D'Angelo Russell, Buddy Hield, Zach LaVine
Rookie of the Year: Luka Doncic
Season Stats: 21.2 PPG, 7.8 RPG, 6.0 APG, 1.1 SPG, 0.3 BPG
.427 FG%/.327 3P%/.713 FT%
---
Trae Young had a great second half to close the gap, but Luka was the most polished rookie in the NBA. He's the 5th rookie in NBA history to average at least 20/5/5. The other 4? Oscar Robertson, Michael Jordan, LeBron James, and Tyreke Evans.
Other Contenders: Trae Young, DeAndre Ayton, Marvin Bagley, Shai Gilgeous-Alexander
6th Man of the Year: Lou Williams
Season Stats: 20.0 PPG, 3.0 RPG, 5.4 APG, 0.8 SPG, 0.1 BPG
.425 FG%/.361 3P%/.876 FT%
---
The leading bench scorer in NBA history, there is a crowd that wants to name this trophy after Williams. Following the Tobias Harris trade, Williams averaged 21 PPG, and the Clippers went 18-12. The fact they stayed in the playoff race after trading their best player is in large part due to Williams' play.
Other Contenders: Domatas Sabonis, Terrence Ross, Spencer Dinwiddie
---
All-NBA First Team
G: Steph Curry
G: James Harden
F: Paul George
F: Giannis Antetokounmpo
C: Nikola Jokic
All-NBA Second Team
G: Kyrie Irving
G: Damian Lillard
F: Kawhi Leonard
F: Kevin Durant
C: Joel Embiid
All-NBA Third Team
G: Kemba Walker
G: Bradley Beal
F: LeBron James
F: Blake Griffin
C: Nikola Vucevic
---
All-Defensive First Team
G: Jrue Holiday
G: Marcus Smart
F: Paul George
F: Giannis Antetokounmpo
C: Rudy Gobert
All-Defensive Second Team
G: Eric Bledsoe
G: Danny Green
F: Pascal Siakam
F: Draymond Green
C: Myles Turner
---
All-Rookie First Team
G: Trae Young
G: Shai Gilgeous-Alexander
F: Luka Doncic
F: Marvin Bagley
C: DeAndre Ayton
All-Rookie Second Team
G: Colin Sexton
G: Alonzo Trier
F: Rodions Kurucs
F: Jaren Jackson Jr.
C: Wendall Carter Jr.
---
Follow Nick on Twitter (@Nick_Collins14)